Traditional three coat stucco
Number one material against air infiltration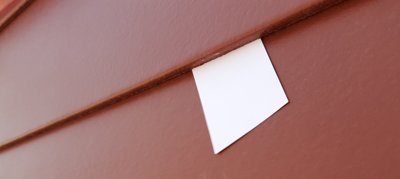 April, 2016-Siding is the worst material against air infiltation. I took this picture in Arlington, Virginia, near Washington, DC. I slid a business card all the way behind the siding.
What the siding manufactures claim is a high R Factor is negated by the fact wind whips around the siding.
Number one material for thermal mass for hot climates
Stucco has been the material of choice for years in hot climates for thermal mass and still is. The dense heavy cement retains cooler temperatures from the night through the day. Here's what building science says about stucco in Las Vegas and Dubai, two cities known for their hot climate.
Here's what Building Science says about stucco in hot climates.
Number one finish material against earthquakes
On wood frame buildings, the lath and stucco prevents the building from shaking because it is a heavy material that is nailed directly to the structure. Brick veneer, for example, is supported by a concrete footer and attached to the building using brick ties. The shaking of an earthquake knocks the bricks loose. Other lightweight materials such as siding do nothing to prevent the building from shaking.
Number one material against hurricanes
Real cement stucco is durable enough to stand up to strong winds. In huricane Andrew, brick veneer failed because of the air space between the brick. The pressure differential sucked the brick off the wall. Materials like EIFS were blown off the wall like they were nothing.