The

exceptions are

when there are

roofs that can't be walked on

, without possible

damage

to the roof.
Examples of roofs that can't be walked on are:

slate, spanish tile, some copper roofs, and aluminum roofs.

In this case it is necessary to put on a

counter flashing first

, stucco next, overlapping the counter flashing with stucco, then put on the finished roof.

Click here for more....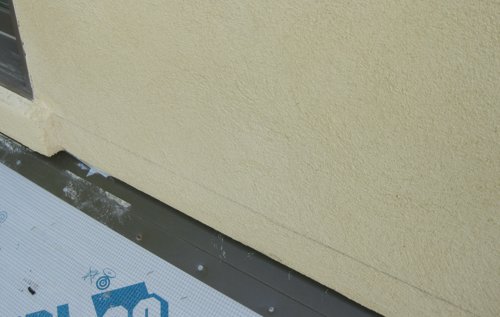 Here a factory made counter flashing is put on first, before the
stucco, allowing the stucco to overlap the flashing. Later, the
aluminum roof panels slide into the counter flashing. This
allows the stucco to proceed without walking on the finished roof.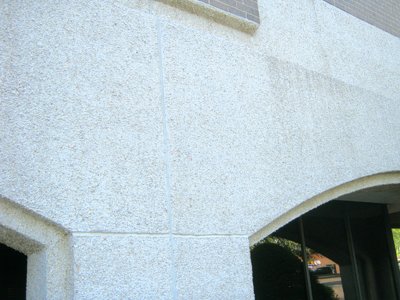 What is "finestone"?
Finestone was a brand
name for an aggregated
stucco finish popular in
the 1960's and '70's

Please click here for more....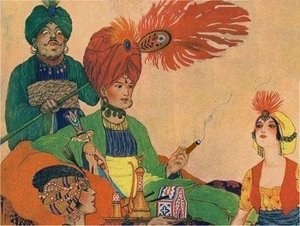 Swami Stucco
Mystic secrets revealed.
click here to write.
reggie@rtbullard.com

Questions:
Please click below for more:


MORE LINKS:




Artisan finishes: Don Latimer's
great work.
Portland Cement Association
Stucco Manufacturers Association
A resource for three coat stucco.
Please check out this great site:
Click here --> Stuccodamage.com <--
Kevin Blanch says everything I want to say:
It is the truth. He shows how the fakes, the one coat stuff and EIFS
have damaged a proud and highly skilled industry.
PLEASE VISIT stuccodamage.com



For an excellent resource on flashing,
please click here. I downloaded this from:Building science.com. This pdf file backs up everything I say about flashing, and more. There is a good illustration on the reverse window flashing I covered in August.


I am in Northern Virginia, in the Washington, DC area.

These aren't just Virginia Stucco problems.