More about permastone (simulated stone stucco).
Hello, I found your website by googling "Perma Stone" repair and found the following page:
http://www.rtbullard.com/stucco/progress/kight.htm
I live in a 1910 home in central Phoenix and the exterior is Perma Stone. There are several areas that need repair, but moreover, we'd like to create a doorway where there is now a window, which will involve cutting away some of the existing Perma Stone and repairing/replacing it around the new larger opening. Our contractor has advised us to find a mason that has experience in Perma Stone, as he does not. After several months of searching in the Phoenix area, we have come up with no one. Every one that I've contacted so far has no idea what Perma Stone is and says they can't help. So I thought I'd reach out to you to see if you know of any one who lives in or visits the Phoenix area that could help us out (a retired employee perhaps). I've attached a few photos of the window that we'd like to turn into a door and a close up of the Perma Stone. Also, I have no idea if the Perma Stone is stucco or concrete. My research into Perma Stone tells me that both materials were used to create it. Any help would be so appreciated! Thanks!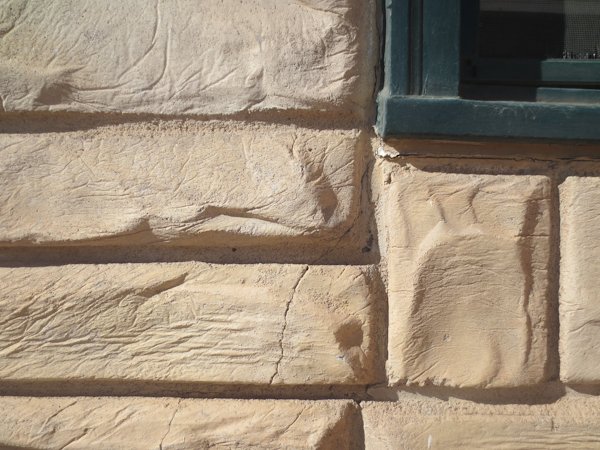 There may be an old plasterer in your area who can patch this permastone for you.
Permastone was a brand name for a franchise for simulated stone stucco. If one had a permastone franchise, permastone provided tools, forms, color and advertising leads from national advertising.
A lot of simulated stone stucco was hand tooled and the color, size etc. was done by the plasterer.
Simulated stone stucco was a big trend in the 1950's. You may have seen my comments on Form stone, a brand of pre cast simulated stone from Baltimore. There is so much Formstone in Baltimore, you would swear you are in a foreign country.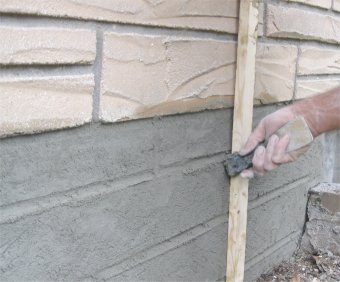 I duplicated perma stone by tooling the joints in the brown coat. A putty knife handle is the perfect tool to do this.
Later each stone is put on with color cement mortar, varying the color every stone.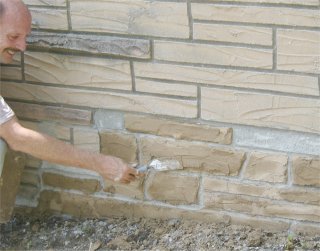 Amazingly the colors came out fairly close when they dried.
The color difference was inconspicuous because the patch was close to the bottom of the wall. The chances of the color coming out this good are pretty slim, so plans should be made to paint, or do the entire wall.

Here are a couple more permastone patches we have done: http://www.rtbullard.com/prog/progress121.htm
http://www.rtbullard.com/prog/progress121.htm